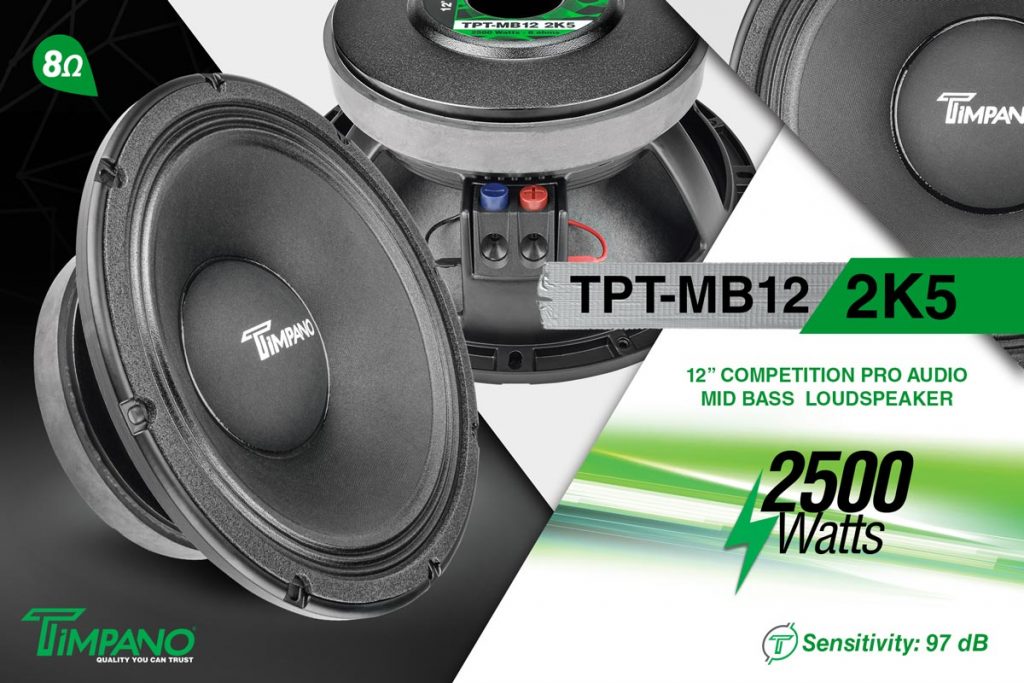 TPT-MB12 2K5 – 12″ Competition PRO Audio Midbass Loudspeaker
Built to last, this 12″speaker is recommended for professional audio systems as a mid-bass (with a high-pass filter of 95Hz at 12dB) in vented enclosures.
Can handle up to 2500 Watts Max power, able to deliver a tremendous amount of sound output
4″ voice coil efficiently dissipates heat and prevents sensitivity loss
Wide Frequency Response of 60 – 5,500 Hz providing clean, detailed sound reproduction
98 dB sensitivity, more output, and high-impact sound
High-grade soft parts for the best combination for high excursion and durability
One of our most powerful mid-bass PRO Audio loudspeakers, the TPT-MB12 2K5, offers outstanding durability. A specially-designed spider suspension is assembled with a resin and combines with the bumped backplate to improve the resistance against failure during intense use. The linear triple-roll suspension offers smooth accurate geometry during hard play, while a large 4″ voice coil results in very high efficiency while providing a smooth and accurate mid-bass response with Xmax of 7 mm.
The magnet assembly is attached to a sturdy reinforced cast aluminum frame completes a solid support structure, for long-lasting play in almost any environment.