TPT-MB12 2K5
12″ Pro Audio Midbass Loudspeaker 8 Ohm
2500 Watts Max Power
60 – 5,500 Hz / 98 dB
In stock
Description
TPT-MB12 2K5 – 12″ Competition PRO Audio Midbass Loudspeaker
Built to last, this 12″speaker is recommended for professional audio systems as a mid bass (with high-pass filter of 95Hz at 12dB) in vented enclosures.
Can handle up to 2500 Watts Max power, able to deliver tremendous amount of sound output
4″ voice coil efficiently dissipates heat and prevents sensitivity loss
Wide Frequency Response of 60 – 5,500 Hz providing clean, detailed sound reproduction
98 dB sensitivity, more output and high-impact sound
High grade soft parts for the best combination for high excursion and durability
One of our most powerful midbass PRO Audio loudspeaker, the TPT-MB12 2K5, offers outstanding durability. A specially-designed spider suspension is assembled with a resin and combines with the bumped backplate to improve the resistance against failure during intense use. The linear triple-roll suspension offers smooth accurate geometry during hard play, while a large 4″ voice coil results in very high efficiency while providing smooth and accurate midbass response with Xmax of 7 mm.
The magnet assembly is attached to a sturdy reinforced cast aluminum frame completes a solid support structure, for long lasting play in most any environment.
Specs:
2500 Watts Max Power
1250 Watts RMS Power
Impedance: 8 Ohm
Sensitivity: 98 dB
Frequency Response: 60 – 5,500 Hz
Voice Coil: 4"
Aluminum Basket with High Strength Ferrite Magnet
Sizing:
Mounting Depth: 5.31" (135mm)
Mounting Cutout Diameter: 11.25″ (286mm)
Overall Diameter: 12.60″ (320mm)
Weight: 23.40 Lbs
www.timpanoaudio.com/TPT-MB12-2K5/
WARNING: Cancer and Reproductive Harm – www.p65warnings.ca.gov
Crazy loud
These speakers are heavy but well worth the weight. They are crazy loud and I only have 600 watts rms powering them right now but eventually I'm gonna get 1000 watts rms per speaker. The mid bass these speakers put out is insane. I know Timpano is known as PRV lower tier equipment but trust me you should definitely buy a pair of these speakers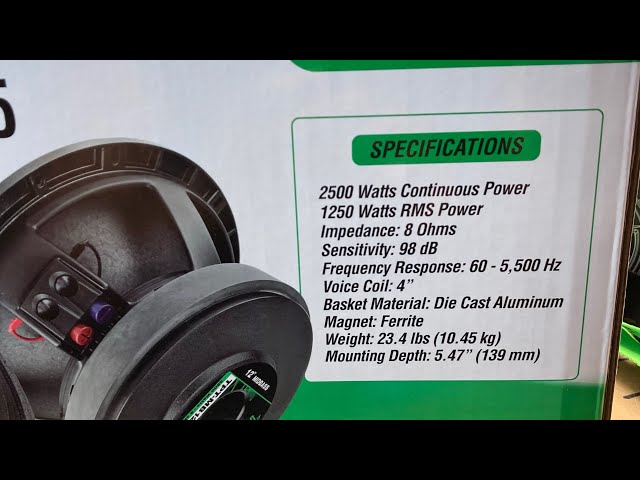 most buy !!!!!!
crazy loudspeakers!!!! takes lots of power like a champ!!!
You may also like…
TPT-D3200TI-ND

200 Watts Continuous
110 dB / 8 Ohms
1600Hz – 19000Hz
Titanium Diaphragm

In stock