MONTHLY SPECIAL!
TPT-1500 1 Ohm
Monthly Special
MSRP:

$

191.94
PRICE:

$

159.95
MONTHLY SPECIAL:

$

119.99
Number of Channels: 1
1600 Watts RMS Power at 1 Ohm 14.4 Volts
1050 Watts RMS Power at 2 Ohm 14.4 Volts
Frequency Response: 10Hz ~ 15KHz
Dimensions (L x W x H): 9.36" x 5.53" x 3.05"
Weight: 3.62 Lbs
In stock
Description
Timpano 1500 Watts Car Audio Amplifier Fullrange TPT-1500 1 Ohm – 1 Channel Compact 12 volts Monoblock Fullrange Class D Car Amp
Small Footprint Technology! HD Sound Quality!
Timpano amplifiers raises power amplification to a new standard of quality and usability. The new line delivers the most innovative and powerful Brazilian technology in compact full range amplifiers on the market. Loaded with features, it provides an unsurpassed efficiency rate of 80-90% in a compact Class D full range amplifier.
COMPACT DESIGN: Digital class D Brazilian technology allows this car audio amplifier to have a small footprint by integrating a high-speed mosfet power supply with top of line transistors to ensure performance in a small heat sink without compromising performance. Dimensions: 9.36″ depth x 5.53″ width x 3.05″ height
POWER: This monoblock amplifier is designed to run your system with the power it needs to perform! 1500 Watts RMS power output at 1 Ohm 1 channel. Its high efficiency rate of 86% provides more power with less battery consumption.
FEATURES: Heavy duty power and speakers terminals. Built-in variable crossover filters for easy tuning! Set setting for your type of speaker with a HPF 10 to 90Hz and LPF 90 to 15,000Hz without a need for an external crossover or DSP. It also includes Variable Gain Control. Level controls are not for adjusting volume. They adjust the amount of signal that is coming into the amplifier from your signal source.
TECHNOLOGY: A smart electronic 2-way protection circuit protects the amp if it gets too hot or if speakers fail causing a short! Focusing in sound quality, a full range response of 10 to 15,000Hz was used to give the best sound reproduction on this compact amplifier.
Additional Information:
Number of Channels: 1
1250 Watts RMS Power at 1 Ohm 12.6 Volts
750 Watts RMS Power at 2 Ohm 12.6 Volts
Supply Voltage: 9V ~ 15V
Frequency Response: 10Hz ~ 15KHz
Crossover Low Pass: 90Hz ~ 15KHz
Crossover High Pass: 10Hz ~ 90Hz
Signal to Noise: > 90 dB
Input Impedance: 10K Ohm
Impedance Output: 1 Ohm
Musical Consumption: 63,5A
Dimensions (L x W x H): 9.36" x 5.53" x 3.05"
Weight: 3.62 Lbs
Features:
The TPT-1500 offer 1 channel with advanced individual equalization features for Mid Bass and Mid High, plus the traditional Level, High and Low Pass Filter features. Its Fullrange frequency response from 10Hz to 20KHz allows the installation of Subwoofers, Speakers, Drivers and Tweeters.
Use the guide Below for recommended applications, where you can get the full potential of your amplifier.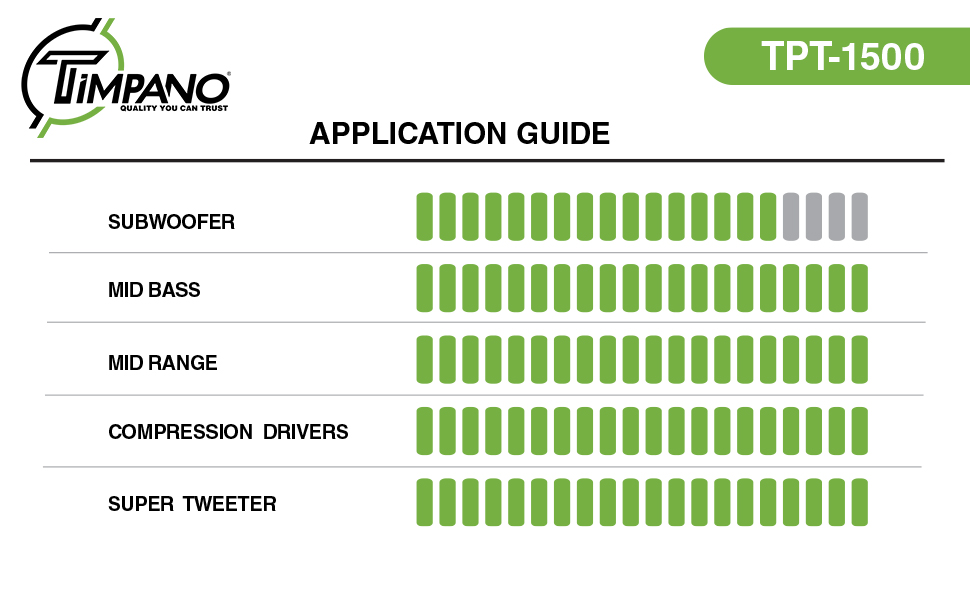 Before Installing:
You must follow the instructions for the product's installation and connections to guarantee optimal performance. If you have any questions, get in touch with us. Before using the amplifier, always follow these guidelines:
• Make sure the amplifier is switched off before adding or removing any connections. This prevents possible damage to the equipment connected to the amplifier;
• Keep all cables as far away as possible from the ignition cables, electronic injection modules and starter switch since they may cause noise interference;
• Always use 100% Copper cables and good quality connectors. This guarantees the sound's quality and fidelity;
• To avoid damaging the cables, make sure that they do not touch sharp metal edges. Important: Use a 70A fuse 12 inches away from the battery as a safety precaution
The power rating data is based on equipment from the PRV Audio Group laboratory. Rated power tested with 100Hz to 1KHz sinusoidal signal and THD <= 10%, with resistant load referring to the indicated measurements. The electronic components and the manufacturing process can present manufacturing variations, thus leading to a variation in the measurements made. This amplifier is designed to perform on music applications ( with speakers ), any load test ( resistant  load ) is not recommended.
WARNING: Cancer and Reproductive Harm – www.p65warnings.ca.govView our Return Policy.