TPT-SP4BT
4-Channel DSP Controlled
By a Wireless BT Connection
2 Channel Input or Hi-Level Input
4 Channel Output
Built-In Voltmeter
Built-In Relay ( Sequencer )
In stock
Description
Bluetooth Car Audio Signal Processor DSP – TPT-SP4BT
We have brought the perfect tools to make your sound system the ultimate music machine!
The compact TPT-SP4BT is signal processor ( DSP ) controlled by bluetooth connection direct from your phone or tablet. This powerful tool allows users to optimize the performance of their custom sound system, regardless of whether they are using a aftermarket unit or factory radio.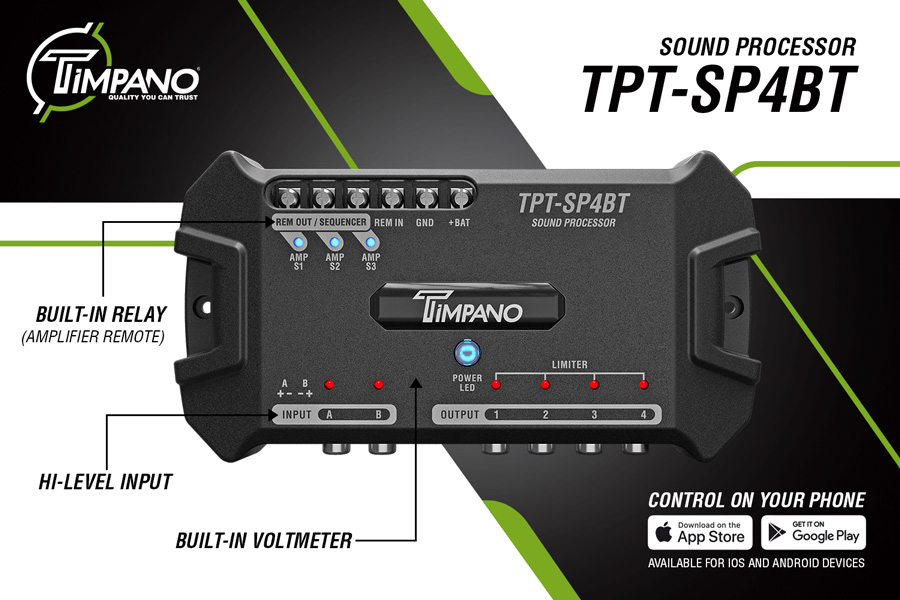 The processor's information can be viewed and configured remotely using smartphones with Android or iOS systems. Its digital signal processor allows real-time modification of equalization, crossover filters, alignment, gain control, phase inversion, limiter, input/output routing, and features such as: Battery Voltmeter, Frequency Generator, Frequency Sweep and Pink Noise.
Its exclusive sequencer feature (SEQUENCER) makes it possible to configure the programmed startup and shutdown of up to three products from the remote startup connections (S1, S2, and S3).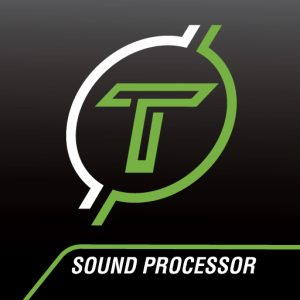 Technical Specifications
Number of channels
Input: 2 x RCA (A+B) or 2 x HIGH INPUT (A+B)
Output: 4 (1, 2, 3, 4)
Graphic equalizer:
15 Bands (gain ±12dB)
Crossover with freq. Variable:
Butterworth: 12/18/24/36 dB/8ª
Linkwitz-Riley: 12/18/24/36 dB/8ª
Output gain:
-45dB ~ +15dB per output
Frequency generator:
10Hz ~ 22kHz and Level -60 ~ 0dB
Battery voltage monitor:
Current, minimum and maximum voltage
Frequency response:
10Hz ~ 22kHz @ 0dB
Max. Input voltage:
RCA: 5,6 Vpp (+8,2 dBu)
HIGH INPUT: 15 Vpp (+18 dBu)
Max. Output voltage:
5,6 Vpp (+8,2 dBu)
Power supply:
10V ~ 15V DC
Max. Output current SEQUENCER:
180 mA per output
Rated current consumption:
170mA @ 12.6V DC
Range:
15 meters*
Compatibility:
Android 5.0 or higher
iOS 12 or higher
Dimensions (H x W x L):
1.3" x 3.8" x 7.4"
Weight:
0.40 Lb
Our crossovers are designed to provide the perfect frequency distribution to ensure the clarity and peak efficiency throughout your custom system.
WARNING: Cancer and Reproductive Harm – www.p65warnings.ca.govView our Return Policy.
Powerful and convenient
This DSP has all the features you would expect from a DSP but its so convenient with the ability to control and monitor everything from your phone. My favorite features are the voltmeter, limiter and gain controls at your fingertips. It's also cool to be able to see the actual cutoffs of the crossover on the screen.
All timpano
A++++ products love them. This TPT-SP4BT have it all you are looking for can't ask for more.
Solid DSP
Let's start by saying, the Timpano DSP is an excellent choice for newbies. For the price, the DSP has enough features to dial into your system. Bluetooth feature is a plus. Plus, the DSP is small enough to fit in tight spots in your vehicle. I would definitely recommend it.
Great Tool
This is super easy to use, but it will not work from very far away ! you still need to be 25ft close to the car
Dsp Bluetooth
This thing is awesome. Control all your eq settings right at your fingertips. Thanks Timpano audio. I look forward to using more products in the future.