TPT-1400 1 Ohm
Number of Channels: 1
RMS Power at 1 Ohm 14.4V: 1400W RMS
RMS Power at 2 Ohm 14.4V: 700W RMS
Frequency Response: 20Hz ~ 18KHz
Dimensions (L x W x H): 5.57" x 7.28" x 2"
Weight: 2.73 Lbs
Description
Small Footprint Technology!
Timpano amplifiers raises power amplification to a new standard of quality and usability. The new line delivers the most innovative and powerful Brazilian technology in compact full range amplifiers on the market. Loaded with features, it provides an unsurpassed efficiency rate of 85-95% in a compact Class D full range amplifier.
Number of Channels: 1
RMS Power at 1 Ohm 12.6V: 1200W RMS
RMS Power at 2 Ohm 12.6V: 600W RMS
RMS Power at 4 Ohm 12.6V: ——
RMS Power at 1 Ohm 14.4V: 1400W RMS
RMS Power at 2 Ohm 14.4V: 700W RMS
RMS Power at 4 Ohm 14.4V: ——
Supply Voltage: 11 ~ 16V
Frequency Response: 20Hz ~ 18KHz
Crossover Low Pass: 50Hz ~ 2KHz
Crossover High Pass: 50Hz ~ 2KHz
Signal to Noise: > 90 dB
Harmonic Distortion: < 0.9 % THD
Input Sensitivity: 2.8V
Input Impedance: 10K OHM
Impedance Output: 1 OHM
Consumption with Signal Musical: 3A ~ 80A
Consumption with Signal Bass: 3A ~ 150A
Dimensions (L x W x H): 5.57" x 7.28" x 2"
Weight: 2.73 Lbs
Troubleshooting
Troubleshooting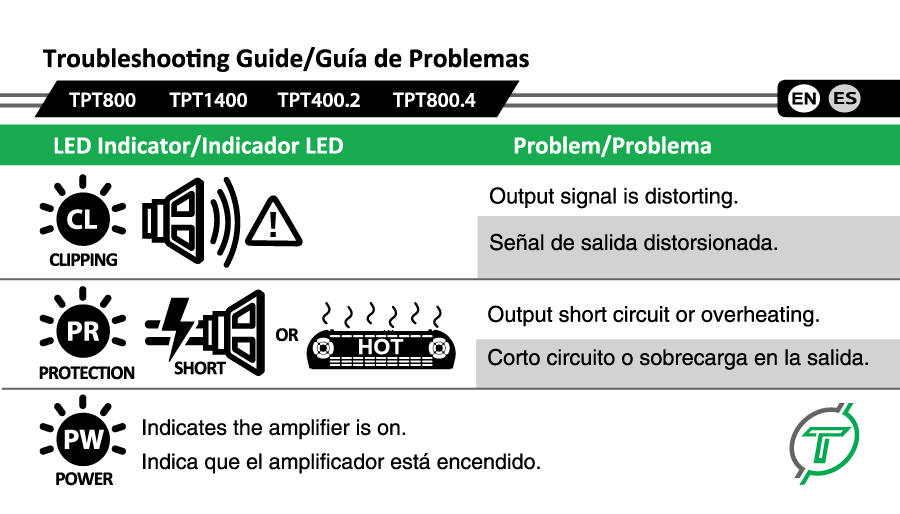 WARNING: Cancer and Reproductive Harm – www.p65warnings.ca.govView our Return Policy.
TPT-1400 1 Ohm ( Refurbished )
Amazing power in a small package
This amplifier is amazing for its size, the power is definitely enough for 2 subwoofers !
I took 1 star off because the fan is kind of loud,
I have a pickup truck so the amp is mounted behind the back seat and can be heard at low volume. If you have a car and installed the amplifier in the trunk this wouldn't be a issue.
I wouldn't recommend mounting under a seat in side the cabin
awesome space saver
Throw 4 of your favorite 8 ohm midrange speakers on this thing ant let it scream.