TPT-1400 2 Ohms
Number of Channels: 1
RMS Power at 2 Ohms 14.4 Volts: 1400 Watts RMS
RMS Power at 4 Ohms 14.4 Volts: 700 Watts RMS
Frequency Response: 20Hz ~ 18KHz
Dimensions (L x W x H): 5.57" x 7.28" x 2"
Weight: 2.73 Lbs
In stock
Description
Small Footprint Technology!
Timpano amplifiers raises power amplification to a new standard of quality and usability. The new line delivers the most innovative and powerful Brazilian technology in compact full range amplifiers on the market. Loaded with features, it provides an unsurpassed efficiency rate of 85-95% in a compact Class D full range amplifier.
Number of Channels: 1
RMS Power at 2 Ohms 12.6 Volts: 1200 Watts RMS
RMS Power at 4 Ohms 12.6 Volts: 600 Watts RMS
RMS Power at 2 Ohms 14.4 Volts: 1400 Watts RMS
RMS Power at 4 Ohm 14.4 Volts: 700 Watts RMS
Supply Voltage: 11 ~ 16 Volts
Frequency Response: 20Hz ~ 18KHz
Crossover Low Pass: 50Hz ~ 2KHz
Crossover High Pass: 50Hz ~ 2KHz
Signal to Noise: > 90 dB
Harmonic Distortion: < 0.9 % THD
Input Sensitivity: 2.8 Volts
Input Impedance: 10K Ohms
Impedance Output: 1 Ohm
Consumption with Signal Musical: 3A ~ 80A
Consumption with Signal Bass: 3A ~ 150A
Dimensions (L x W x H): 5.57" x 7.28" x 2"
Weight: 2.73 Lbs
Troubleshooting
Troubleshooting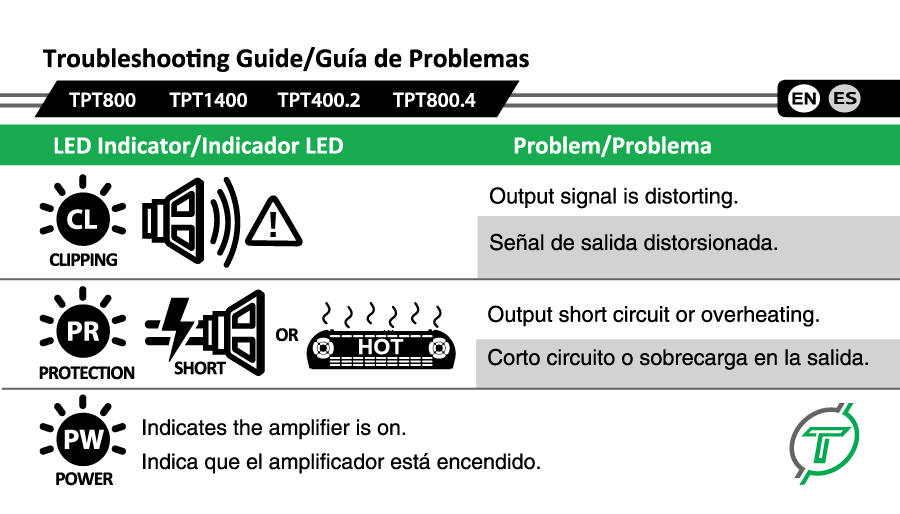 WARNING: Cancer and Reproductive Harm – www.p65warnings.ca.gov
Very good power output on 2 tpt2000 drivers at 4 ohm. My system sits at 15.6 volts so putting quite a bit on them even at 1/3 gain! Very loud, clear, and stays cool. Ready for 2 more drivers!
Pequeña en tamaño pero con mucha potencia aún no la e instalado es sorprendente como algo tan pequeño puede ser tan fuerte en comparación con otras marcas la recomiendo y como dice su refran "calidad en la que puedes confiar
Small amp with big power! I've used 2 of these amps in two different installations with no issues. Plenty of power for midrange/midbass or some compression drivers.